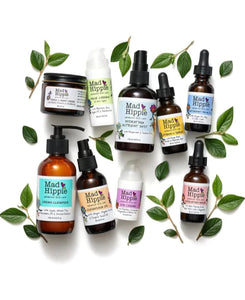 Show your skin some serious love with our most deluxe package! 
INCLUDES
 Cream Cleanser - This mildly acidic cream cleanser is pH perfection, supporting the skin's natural balance of protective oils. Many overly alkaline cleansers strip the skin of the acid mantle, a protective layer of oils. Additional antioxidants and hydrating oils leave the skin soft & smooth while gently washing away dirt & impurities.
Vitamin C Serum - Our award-winning serum is a harmonious blend of antioxidants that works wonders on improving the overall appearance of the skin!


Antioxidant Facial Oil - Make peace with your inner hippie while hydrating & protecting. Our preservative-free antioxidant oil is truly the most natural way to moisturize.

Hydrating Nutrient Mist - Effervescent blend of antioxidants and hydrating essentials.  Leaves your skin feeling soft & supple, and ready to take on the daily stresses of modern-day life.

AHA Exfoliating Peel - Mother Nature & modern science unite to reduce the appearance of skin discoloration & wrinkles in Mad Hippie's peptide + alpha hydroxy acid-based serum. Shed Dull, Damaged Skin & Discoloration to Reveal Brighter, Smoother Skin.

Eye Cream - Triple peptide formula designed to hydrate and reduce the appearance of discoloration & wrinkles

Face Cream - With peptides, niacinamide & resveratrol for lightweight, instant hydration! 


DIRECTIONS
Morning:
1. Cleanse
2. Apply Nutrient Mist
3. Mix three drops of Vitamin C Serum with three drops of Antioxidant Facial Oil in hand and massage into skin on face and neck.
Evening:
1. Cleanse
2. Follow with AHA Exfoliating Peel
3. Follow 10 minutes later with Eye Cream
4. Follow with either Face Cream 
5. If additional hydration is needed, follow with the Antioxidant Facial Oil