Beautiful Piercings @ S.O.S.

Here at Sink or Swim, We're bringing you nothing but the best.
Testimonials
I had a great experience at Sink or Swim Tattoo, they were very polite professional and clean. My daughter wanted to do a piercing and this is where we had the pleasure of meeting Kali
She had great reviews and we have to say she is amazing.

>>>Slide For More!

Patricia Stuart
SOS II: Positive:Cleanliness,Professionalism,Punctuality, Quality,Value

Absolutely amazing!!! Jeannie tattooed my dad and myself and we can not be anymore happy.Booking was so easy, everyone is so friendly and they squeezed us in with almost no noticeWill come back for all my tattoos.Thank you Sink or swim team!

>>>Slide For More!

Rebecca
Positive: Cleanliness, Professionalism,  Punctuality, Quality, Value

Absolutely love Sink or Swim. They have incredibly talented artists and so happy every time I leave with new ink!!

>>>Slide For More!

Shyianne Kersey
SOS II:

Had a wonderful visit at the buckhorn location with Jeannie today. This was my first visit but definitely not my last! Im still blown away by Jeannie's talent!! As soon as you walk in the door you feel right at home. I felt extremely comfortable and welcomed by everyone there. Also A+ for cleanliness and punctuality.

>>>Slide For More!

Crystal Newell
SOS II:

Amazing people super friendly, super helpful And go above and beyond to look after clients. I had reached out to other artists about doing a tattoo for me and others would not respond to even answer questions Willy and the team reached out within hours let me stop in and discuss things with them and left me feeling super excited! Can't wait!

>>>Slide For More!

A Gillespie
SOS II:

Buffy was really sweet and talked me through the whole process while I was getting my helix done by her. Super sweet and as gentle as could be (even for a major wuss like myself lol) Thanks again!

>>>Slide For More!

Abby Ace
Love the place, Dom is a stand up guy and can help u with just about anything !!

>>>Slide For More!

Brandon Thornton
Positive: Cleanliness, Professionalism,  Punctuality, Quality! took my 6yr old daughter to get her ears pierced. From the initial phone call, this business was extremely professional and courteous. When we arrived, they made us feel at home and Kali was awesome. My daughter had a smile on her face the whole time (even through the piercings). I absolutely recommend Sink or Swim as they go above and beyond! The quality of the service and jewelry are very high as well and my daughters ears healed very quickly and without issue.

>>>Slide For More!

Phil B
Great service and value! My Wife and I had Leo as our artist and he was outstanding to work with and made the process seamless. Absolutely love how the tattoos turned out and will return again in the future purely based on this experience.

>>>Slide For More!

Keith Craig
BOOKING WITH YOUR FAVORITE ARTIST IS AS EASY AS 1...2...CLICK!
CLICK ON THE NAME BELOW AND THE IMAGE WILL TAKE YOU TO OUR APPOINTMENT FORM.
FOLLOW THE STEPS & WE WILL CALL OR EMAIL YOU BACK WITH A CONSULT OR APPOINTMENT TIME.
- THANKS, S.O.S.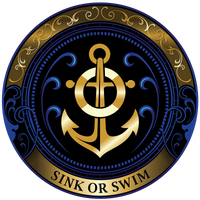 ABOUT OUR ARTISTS:
SINK or SWIM TATTOOS prides itself on providing you with talented, well rounded and professional Artists that we believe keep our shop at the highest of standards.  Our team works together to ensure that you, the Client, get the best Artist suited for the design you are looking to achieve.  Our ultimate goal is for you to walk out of our shops with having had an amazing experience from start to finish.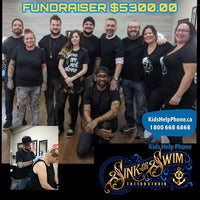 FUNDRAISER : KIDS HELP PHONE
Special thanks to everyone who attended to support a great cause.
On OCT 26th and 27th, 2019
The Community of Aurora and Surrounding Towns managed to raise $5300 in donations over 2 days.
100% of all Tattoo & T-Shirt Proceeds and a portion of all Piercings were donated to Kids Help Phone on Behalf of Sink Or Swim Tattoos and it's amazing Family including Tattoo Artists: 
Jason Grant, Trish Synn, Edwin Dyte, Autumn LaPointe, Jon Champange, Matthew Corvus and Piercer Vishal Rambharose. 
Organized By Terri, Debbie and Dom. 
We will be adding more amazing Fundraisers to our schedule for other amazing causes, so please stay tuned. 
Click HERE For More Details
KEEP IN THE KNOW HERE @SINKorSWIMTATTOOS. Click Below To View OUR ARTISTS PORTFOLIO'S.