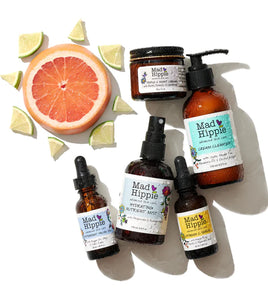 For serious skin hydration, this routine is a must! Soothing oils and antioxidants protect and nourish the skin naturally!
DIRECTIONS
Morning -
1. Cleanse with a pump of Cream Cleanser
2. Apply Nutrient Mist
3. Mix three drops of Vitamin C Serum with three drops of Antioxidant Facial Oil in hand and massage into skin.
Evening -
1. Cleanse with a pump of Cream Cleanser
2. Apply Nutrient Mist
3. Apply Triple C Night Cream
4. If additional hydration is needed, follow with Antioxidant Facial Oil
INCLUDES
Vitamin C Serum - Our award-winning serum is a harmonious blend of antioxidants that works wonders on improving the overall appearance of the skin!
Antioxidant Facial Oil - Make peace with your inner hippie while hydrating & protecting. Our preservative-free antioxidant oil is truly the most natural way to moisturize.
Triple C Night Cream - A deeply hydrating treatment packed with 3 forms of vitamin C, potent antioxidants & adaptogens. With 19 cutting-edge actives, this synergistic formula brings dramatically brighter, healthier, smoother looking skin in just one jar!
Cream Cleanser - This mildly acidic cream cleanser is pH perfection, supporting the skin's natural balance of protective oils. Many overly alkaline cleansers strip the skin of the acid mantle, a protective layer of oils. Additional antioxidants and hydrating oils leave the skin soft & smooth while gently washing away dirt & impurities.
Hydrating Nutrient Mist - Effervescent blend of antioxidants and hydrating essentials. Leaves your skin feeling soft & supple, and ready to take on the daily stresses of modern day life.