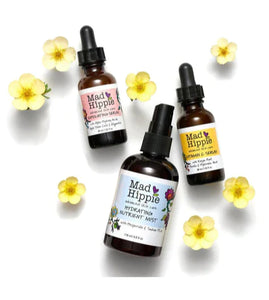 Hydrate and nourish in the morning and exfoliate at night with this great little combo for easily congested skin! 
Directions:
In the morning, massage Nutrient Mist into freshly washed skin. Follow with the Vitamin C Serum. In the evening after washing, massage the AHA Exfoliating Peel into skin.
Includes:
Vitamin C Serum - Our award-winning serum is a harmonious blend of antioxidants that work wonders on improving the overall appearance of the skin!
Hydrating Nutrient Mist - Effervescent blend of antioxidants and hydrating essentials. Leaves your skin feeling soft & supple, and ready to take on the daily stresses of modern day life.
AHA Exfoliating Peel - Alpha hydroxy acids (glycolic and lactic acid) and peptides to brighten and exfoliate while you sleep! A gentle, overnight peel that leaves your skin glowing!